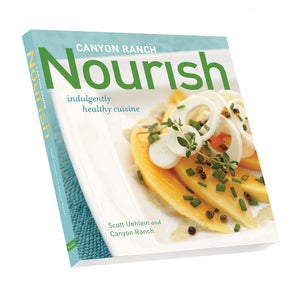 Canyon Ranch
Canyon Ranch Nourish – Indulgently Healthy Cuisine
Regular price
$ 40.00
$ 0.00
Canyon Ranch Nourish Cookbook
Our guests constantly tell us they want to take home the delicious, healthy food they enjoy at Canyon Ranch. You'll find a mouth-watering selection of our best recipes – along with useful tips and sound nutritional advice from our experts – in our cookbook, Canyon Ranch Nourish. It makes a wonderful gift!
This easy-to-use, fully illustrated, 383-page cookbook features more than 200 delicious and nutritious recipes from Corporate Chef Scott Uehlein and the Canyon Ranch nutrition and culinary team.
Canyon Ranch Nourish features a wide range of recipes – from breakfast treats to entrées to desserts – that will entice the most sophisticated palate. Each recipe includes complete nutritional information as well as simple step-by-step techniques to empower even the novice cook.
Bon appetit!
---
More from this collection